Let the decorating begin! I have slowly started to decorate my home for Christmas. This year I have decided to go with the theme of the house already and use black, white, and silver. I enjoyed throwing a few pops of green here and there as well. White has always been one of my favorite themes to use. Everything white can feel sterile but if you do it right it can be so glam! I have gotten  a lot of ideas off of pinterest and put my own spin on things that I like. I tend to pin a lot of the same type of looks and pull things i like from each picture and make it my own. I haven't completely finished the house but like everything it takes time! Here are a few recent Christmas additions:
I HAVE LINKED SIMILAR CANDLES HERE :
BARK CANDLES // http://rstyle.me/~6WZnZ
GOLD BARK CANDLES // http://rstyle.me/~6WZob
PINECONE TREE CANDLE // http://rstyle.me/~6WZrC
DEER // http://rstyle.me/~6WZrK
THE BEST FLAMELESS CANDLES // http://rstyle.me/~6WZtu
SNOWFLAKE CANDLE // http://rstyle.me/~6WZuU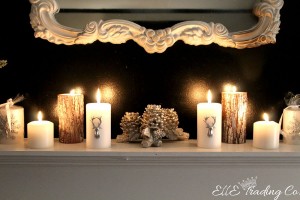 This is an upclose of my mantle. I have kept it mostly surrounded by gorgeous candles, a few figurines, and candle holders. There is something so relaxing about having a lit fire and tons of candles lit. I purchased these candles from Marshalls, TJMAXX, and Tuesday Morning. I am definitely a bargain shopper unless its something very original and unlikely duplicated.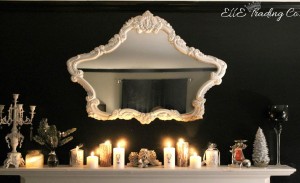 This is a full photo of my mantle. I do plan on adding green garland with faux snow and a wreath to the mirror. I love the reed diffuser that is to the left that looks like tree branches from Yankee Candle i believe it is some sort of tree scent, smells divine. I think the garland will add a more completed look.  Ill try and post a photo of it once it is completed.
In my kitchen I have a garden window which is absolutely atrocious. There is condensation in-between the two window panels and it is terrible, so please disregard that. I purchased the pinecones from TJMAXX and the candles from Hobby Lobby, the tray came from Z Gallerie a few years back. I love this look and it was so easy to recreate from Pinterest.
I hope you all enjoy your Thanksgiving and I will continue to search for the perfect table setting to complete my christmas decorations! I would love to hear from y'all so find me on Facebook and Instagram (@AirelleSnyder)