Hey guys!! So the first day of the NORDSTROM ANNIVERSARY SALE is today!! I went this morning with Luke to try on some things for y'all and to see if it was really worth going or even looking online. I was up at 2 am trying to find things online that would be in store so I would spend my time efficiently.  You can shop all of these pieces in the widget below or through the links. LETS SHOP!!
DRESSING ROOM TRY ON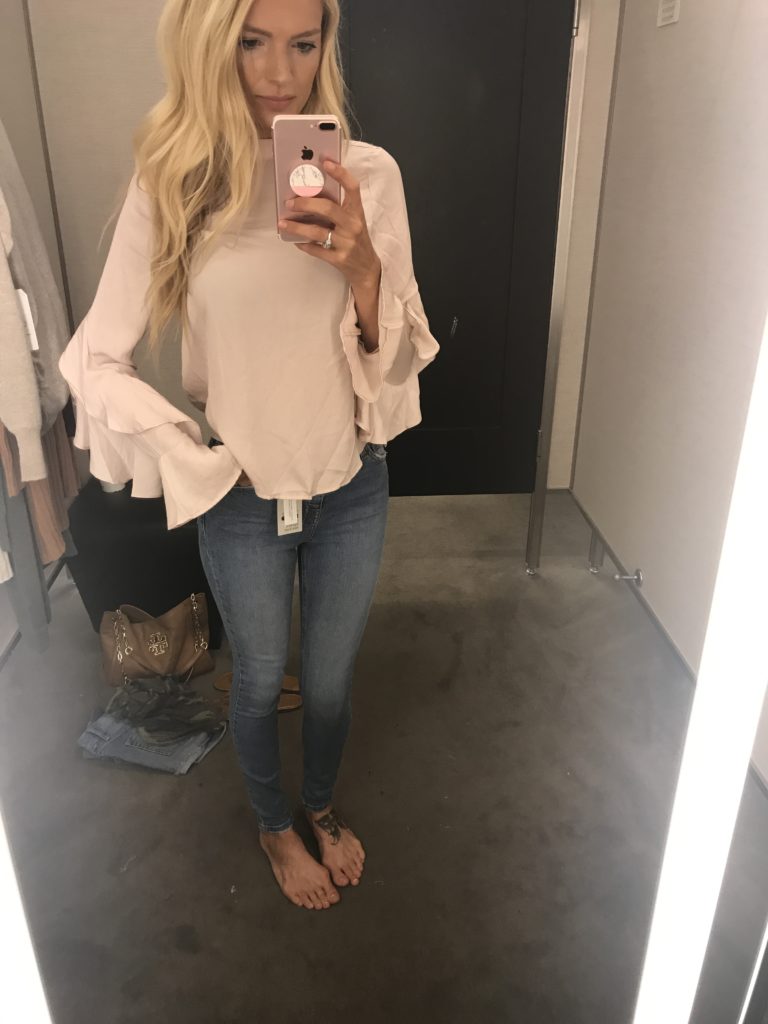 This TOP is so so cute!! Only $31 and comes in two colors which i show below. I prefer the blush and it fits true to size I'm wearing an XS.
I purchased these high waisted jeans and couldn't be more obsessed. They run small so size up. I am a 24 and am wearing a 25. They also have a distressed pair which I plan on ordering.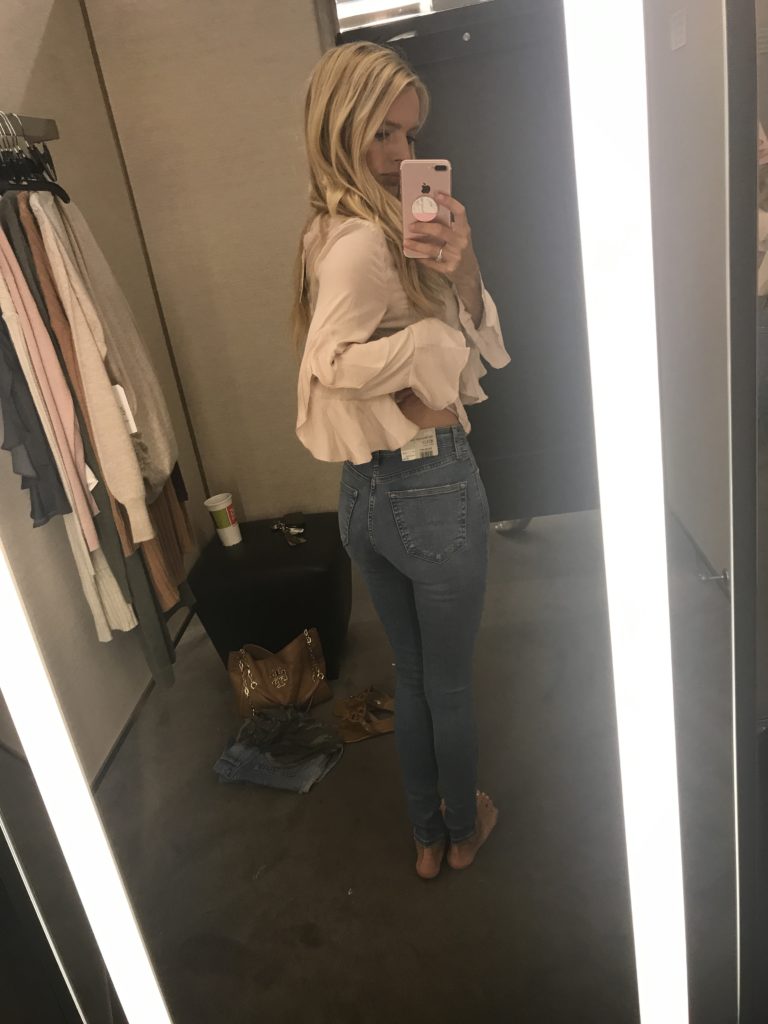 They aren't too high and dont give you a weird butt i dont think. I was worried they would make me look weird but I think they are super cute!! How cute are the ruffles on that top?!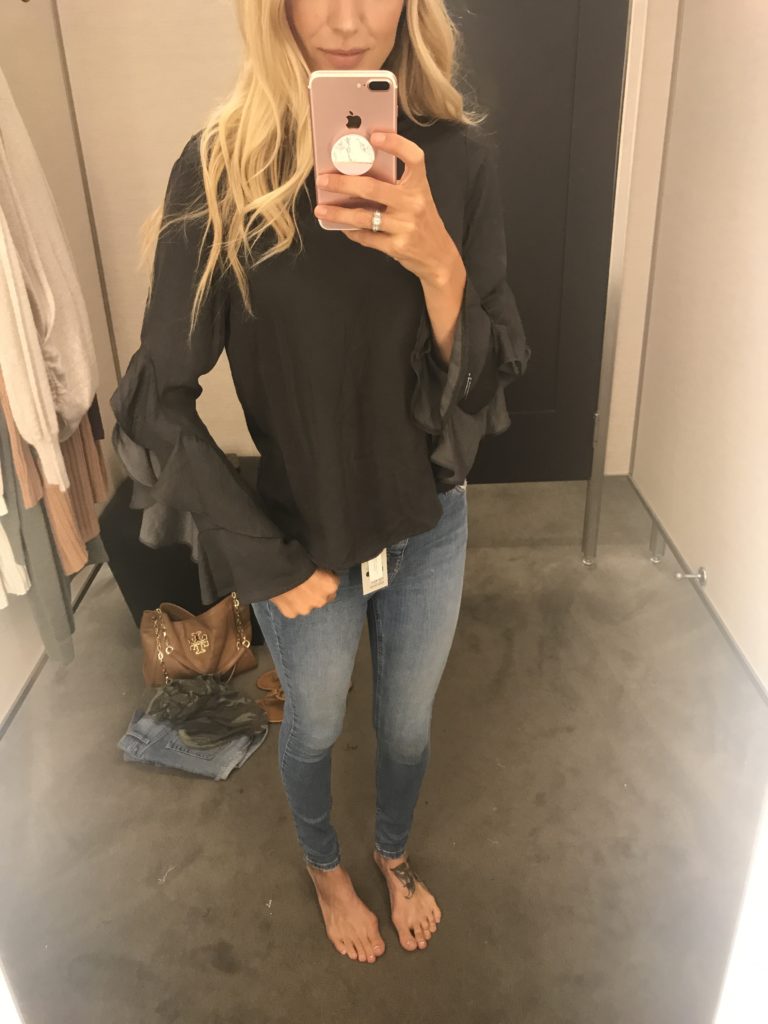 Here is the gray one in the ruffled top. Only $31 and goes up to $49 after the sale!!
So i knew as soon as i put on THIS SWEATER I had to have it!! It is so comfortable and comes in a few different colors. I loved the blush so thats what i got but the other colors are great for layering. I love it with the jeans!! Its only $24!!
THIS CAMI is so great!! I love the feel of it and the fact that it was maybe $22?! Comes in black too! This is perfect for a fall layering piece. You can see how I wore it with basically every cardigan or sweater and it looked so good!! I defiantly want the black one!!
You can see the cami underneath this sweater which comes in two colors and I loved them  both!! One was light grey and this one was a bone color. So pretty and lightweight. Perfect for fall!! Also the material is so so soft.
One of my favorite cardigans was THIS ONE. It comes in so many colors and is seriously so comfortable i need all of them. I wish it came in a hunter green I would have gotten that one!! I want to order the light tan color and this one. Its a thicker material so great for those chilly nights!! I paired it with the cami and those same jeans which are only $45!!
If you know me you know Im obsessed with anything this green color!! THIS CARDIGAN has a half belt on the back and two faux button details on the front. I love the rust color it comes in too!! Only $52 and one of the softer cardigans I tried on.
THIS CARDIGAN is just like the one before but in the light tan color. I think I will for sure order this one because its only $30 and you can never have to many!!
MY SHOES ARE THE TORY BURCH MILLER FLAT in SAND PATENT.
MY PURSE IS FROM LAST YEAR BUT HERE IS A NEWEST VERSION.
HERE ARE THE ACCESSORIES AND SHOES I FOUND I RECOMMEND BUYING 
THESE BOOTIES will for sure sell out and I recommend them for sure!! This brand can run small so try sizing up a half size!! Only $99!!
I had a hard time trying to decide which bag I liked best so I thought Id share each of them.  THIS BAG is on major sale and I LOVE it!! Its large enough for my computer and comes in a blush color which is also gorgeous.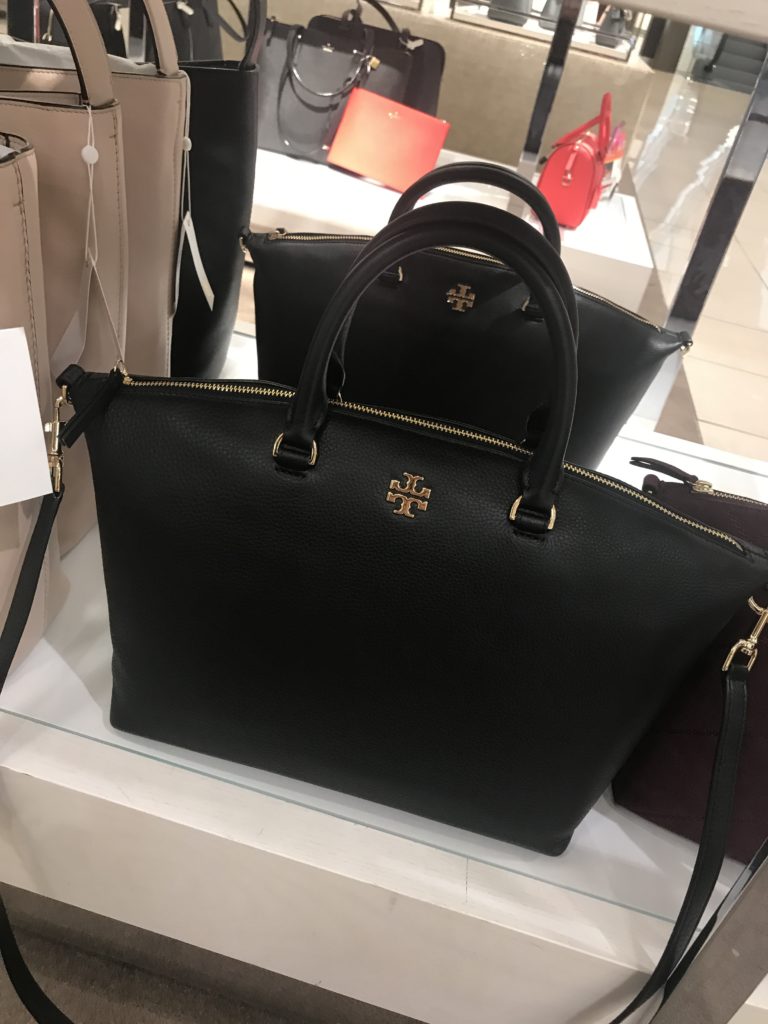 I think THIS BAG is the one I love the most. It so cute and has plenty of pockets. I like the strap on it as well and only a little over $300!!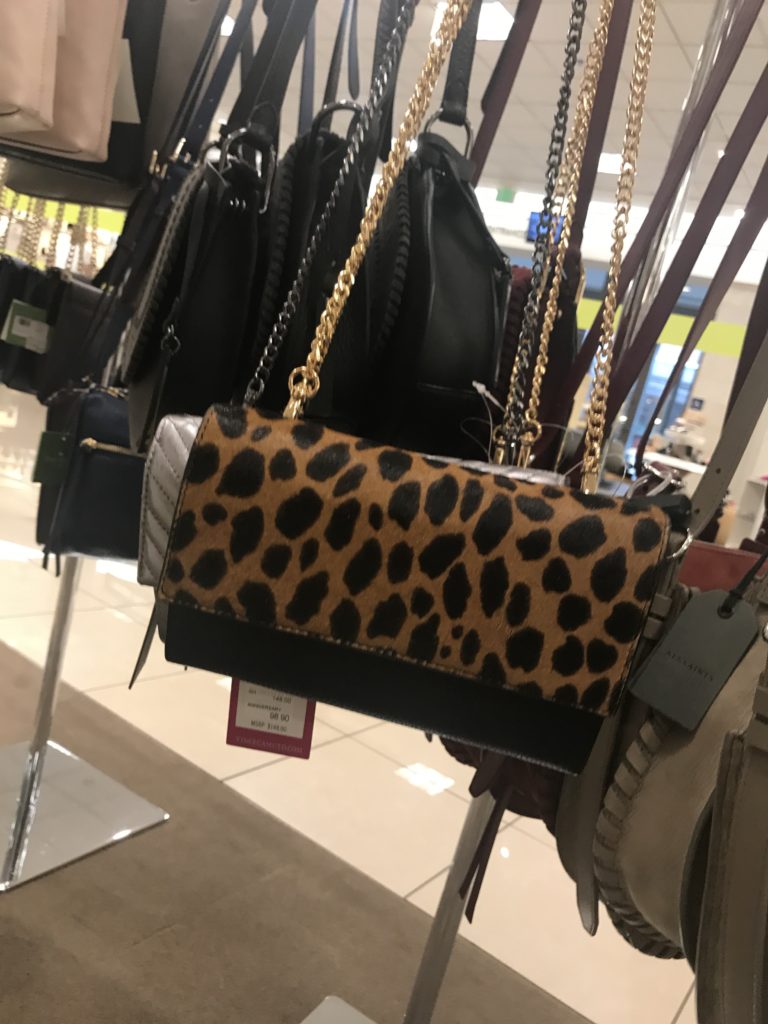 You won't believe who makes THIS CLUTCH!! I saw it out of the corner of my eye and I was like uh no way!! Its only $99 and looks super expensive!!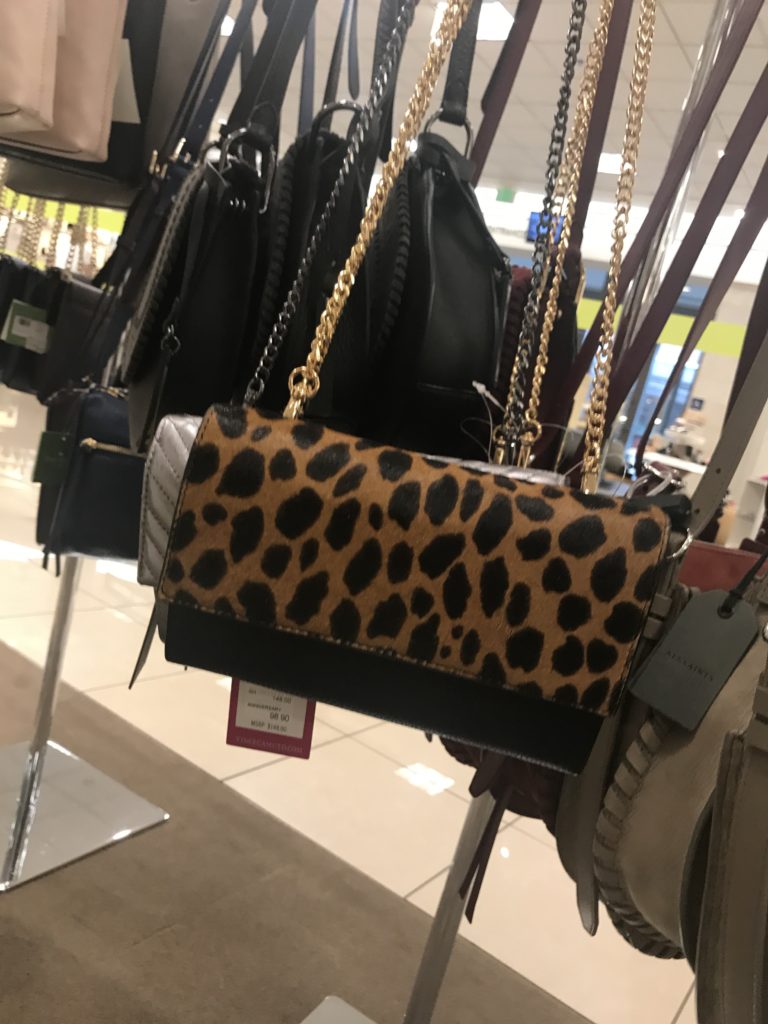 Last but not least I tried on about ten pairs of sunglasses and THESE were my favorite but THESE were so cute too!! Both under $100!!
YOU CAN SHOP ALL OF MY PICTURES AND OUTFITS HERE TOO // https://www.liketoknow.it/airellesnyder
Ok so that is it for todays post. I feel like Ive been typing for a year lol!! I hope you guys enjoy seeing what i got and what my recommendations for the sale are too!! I have some things I found online that I am going to order so be sure to let me know if you want to see those!! Thanks for reading and happy shopping!! xoxo -A
SaveSave
SaveSave
SaveSave