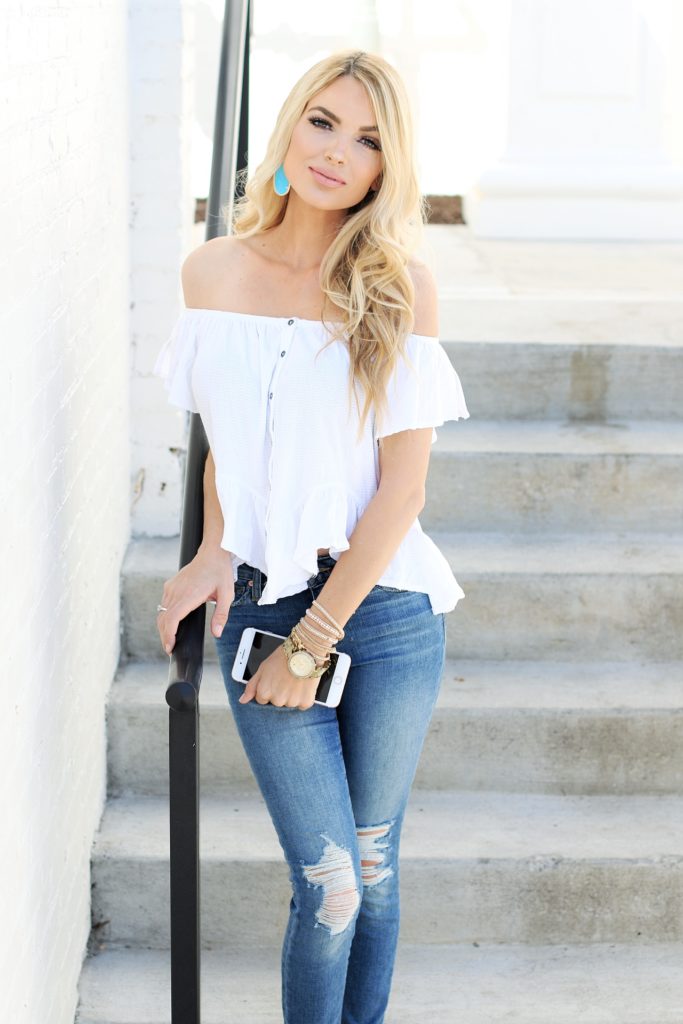 TOP : FREE PEOPLE // JEANS : JOE'S JEANS // SHOES : GH BASS // EARRINGS : KENDRA SCOTT // WATCH : MICHAEL KORS
Hey guys!! So Im sure most of you know what a hectic week last week was for us. I won't go into detail but I just want to say thank you for all of the positive and comforting comments you all gave me on my youtube video. It means so much to me that you all support what I do and see that I really do just want to help people. By no means did I think that video would end up on every news outlet and media source that I could think of and I sure didn't think it would be such a big deal. Anyway I just wanted to say thank you for your support it means so much to me.
I wanted to share what I wore for Luke's birthday this weekend. I got all of his friends together to go to a local winery called Arrington Vineyards. It was so fun and I think he really enjoyed himself. He was so against a party but I thought you ARE having a party!! Luke has so many friends and everyone that came was so sweet to be there for him. We went to dinner last night at a local mexican place and he loves mexican!! I ordered a huge piñata that was made of chocolate he got to hit and out came churros and fruit!! It was so delicious!! Happy birthday to my sweet man I hope your day was everything and more.
So back to my clothes!! I got this adorable Free People top and I think its on sale!! I am wearing an XS and it fits me true to size. The jeans are my new favorite that I basically wear everyday from Joe's Jeans. I love the white and turquoise combo with the top and earrings it just feels so spring!!
I wore my Tory Burch flats to the vineyard but you can dress it up with heels or wedges or wear these slides I have on in the photos!! They are so comfortable and only $100!!
I hope y'all had a great weekend!! Be sure to watch my newest youtube videos to keep up with new makeup and fashion!! xoxo -A